How to Create a Balinese Style Home
The interiors of the Balinese style home is characterized by its earthy and tropical vibes, which are exemplified through lush greens and raw materials. This style originates from Bali, Indonesia, and has become increasingly popular over the years due to its unique aesthetics and philosophies. Here's an overview on how to create your very own exotic Balinese style home.
What is Balinese Style?
Blog Introduction: If you're looking to create a space that captures the essence of natural beauty, then Balinese style is for you. The concept of this style originates from the Indonesian island of Bali and combines the outdoors with elements of nature into the interiors. It is characterized by lush greenery, rich flora, and pieces crafted from natural materials such as wood, bamboo, and ceramics. In this blog, we will explore what this unique style looks like and how it can be incorporated into your home décor.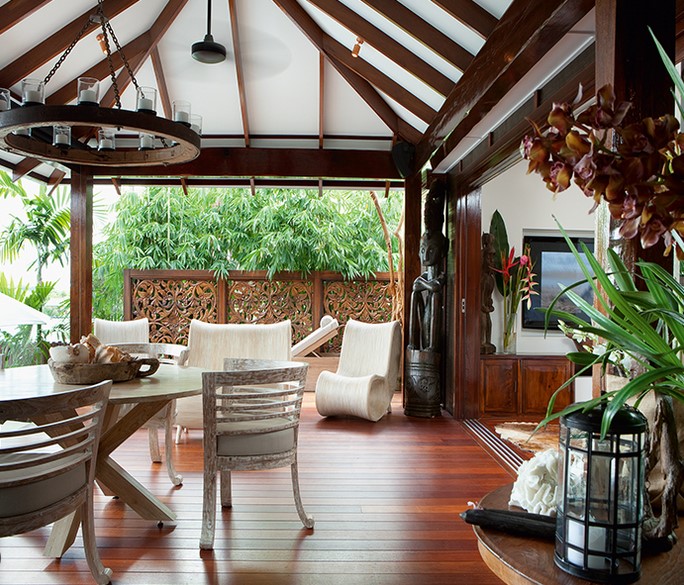 The Basics of Balinese Style
The key to understanding Balinese style is to focus on nature; more specifically, wild greenery, tropical foliage, and vibrant colors. This style incorporates both indoor and outdoor living spaces connected through open doors or balconies with views of gardens or other natural scenery. Natural materials such as woods and bamboos are used in furniture pieces while rich tropical colors are used in textiles like rugs and curtains. Additionally, ceramics are used to bring a sense of balance between modern design and traditional craftsmanship.
How to Incorporate Balinese Style Into Your Home
If you're looking to incorporate this unique style into your home décor there are several things you can do. First off, bring nature indoors by incorporating plants into your living space — these will help add some vibrancy to an otherwise dull room. You can also incorporate wooden furniture pieces — think chairs, tables, benches — as well as bamboo structures such as walls or sculptures in your outdoor areas. Lastly, don't forget about colors! Use bright colors like emerald greens or blues alongside muted tones like browns or tans for a balanced look that captures the essence of Bali-style living perfectly! 

Colour Palette
The colour palette of this style consists of warm yet natural hues that bring out the vibrant energy of Bali's culture. Earthy tones such as green, brown, yellow, gray or white are found in abundance throughout a typical Balinese-style home — however you may also incorporate saturated shades such as bright reds or blues for a more fun ambience.
Furnishing Accessories
In terms of furniture and accessories for your Balinese-style home, it would be best to stick with natural materials like wood or bamboo that have been handcrafted in intricate designs – think rattan chairs with carvings along its edges or perhaps an intricately designed wooden bed frame. On top of that, feel free to add some woven baskets filled with colourful cushions or throws for both aesthetic purposes as well as comfortability!  There are a lot of stores out there which offer balinese furniture – whcih can be great addition to your indonesian-style home. One of them is Australian Prime Liquidations, go ahead and check out their website.                                                                                                                                                           
As you can see from all these different elements discussed above (colour palettes, furnishings and accessories), it isn't too difficult to bring this exotic Balinese-style into your home! All you need is a bit of creativity combined with high quality materials – mix things up until you find what works for you! With these tips in mind, you'll soon be able to transform any dull space into an Instagrammable paradise fit for any "island of the gods" enthusiast!